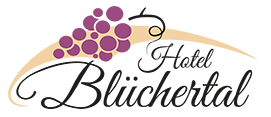 Holiday in Bacharach on the Middle Rhine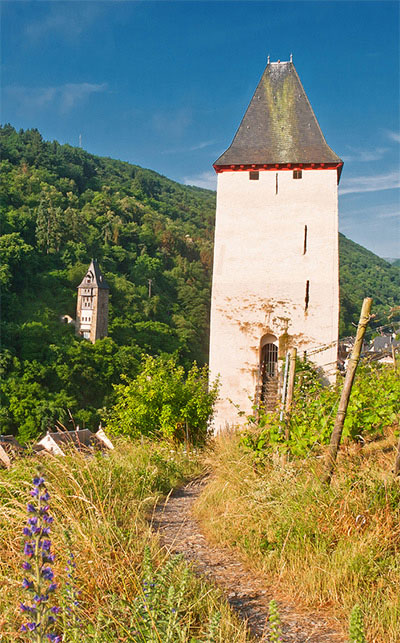 Excursion destinations around Bacharach-Steeg and the Middle Rhine
Steeger history all around the valley
The ancient town of Bacharach guards the Steeger valley where Stahleck Castle is enthroned at a dizzy height. In it, between forest and vineyards, lies the former village and current district of Steeg, whose name is derived from "Steige". It marks a settlement on a road leading from the Rhine valley to the Hunsrück hills, the Blücherstraße, which was already in use in pre-Roman times. Marshal Gebhard von Blücher also used this route when he pushed back Napoleon's army on New Year's Eve 1813/14 and marched through the Steeger Valley to France with his liberation army.
Whether hiking or cycling - the countryside around the Middle Rhine is enchanting
Bacharach and the World Heritage Valley are an ideal destination for nature, culture and wine lovers. The unique hiking routes "Rheinburgenweg" and "Rheinsteig" inspire with breathtaking views and for families with children the Rheinradweg is a great way to get to know the valley. There is a lot to see here: the landscape all around is of idiosyncratic beauty, the abundance of species in the animal and plant world tempts you to take long walks and bizarre rocks crown the vineyards that were planted tens of generations ago and still produce wines today that delight every connoisseur.
On foot, by bike or by boat – you will be amazed
The leisure activities in the UNESCO World Heritage Upper Middle Rhine Valley are just as varied as its landscape and offer countless possibilities: on foot, by bike or even by boat.

Hiking trails with Rhine romance
The lovely Rhine romance around Bacharach is linked to a variety of beautiful hiking routes. Here you will find a selection of hiking trails with GPS data for your smartphone/navigation device so that you can start hiking straight away – even without a map.
Wineries to fall in love with
The most beautiful bike tours
Bacharach is an ideal starting point for adventurous bike tours – for both beginners and professionals in top condition. If you don't want to bring your own bikes, you can use a rental service near us: Fahrradverleih Weber
Our tip:
From Bacharach you can cycle along the Rhine cycle path to Boppard (approx. 30 km). Alternatively, take the federal railway. From Boppard train station you take the Hunsrückbahn to Emmelshausen – the Schinderhannes cycle path begins there and you go on the old railway line without major differences in altitude to Kastellaun, where you have the opportunity to visit the old town center including the castle (no entry fee).
We then go back a bit on the Schinderhannes cycle path to Ebschied train station, via Horn, Budenbach, Bergerhausen, Rayerschied, Brenzweiler, Mörschbach to Rheinböllen. There in the center the path leads back down to us at the Hotel Blüchertal. The entire daily route is approx. 90 km.
Excursions with the Rhine boat trip
At a glance: The Middle Rhine castles from Koblenz to Rüdesheim and Moselle castles
Further leisure activities in the Hunsrück
Hire an e-bike for a bike tour in the Rheingau
Experience the Rhine Cycle Route by bike. You don't have one with you? No problem. We rent out e-bikes for day trips or the entire holiday for you and your whole family.